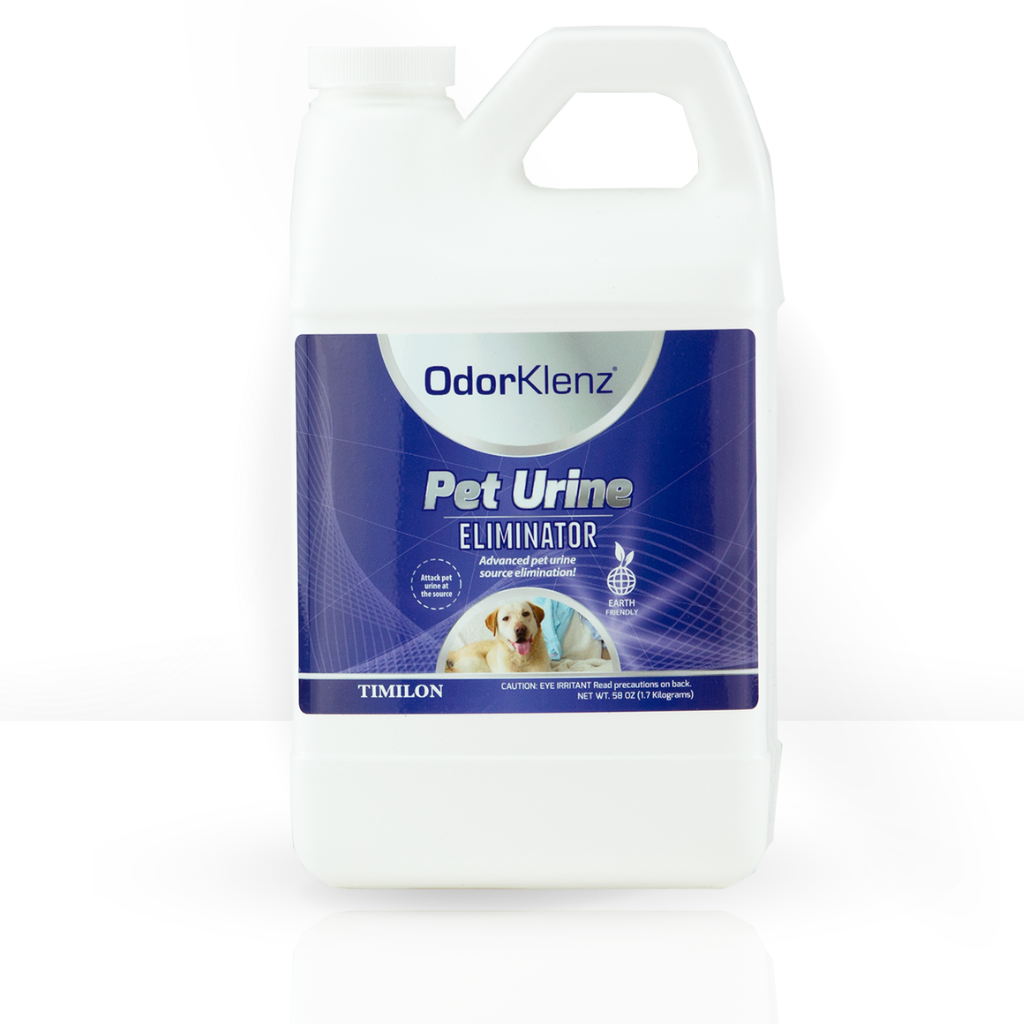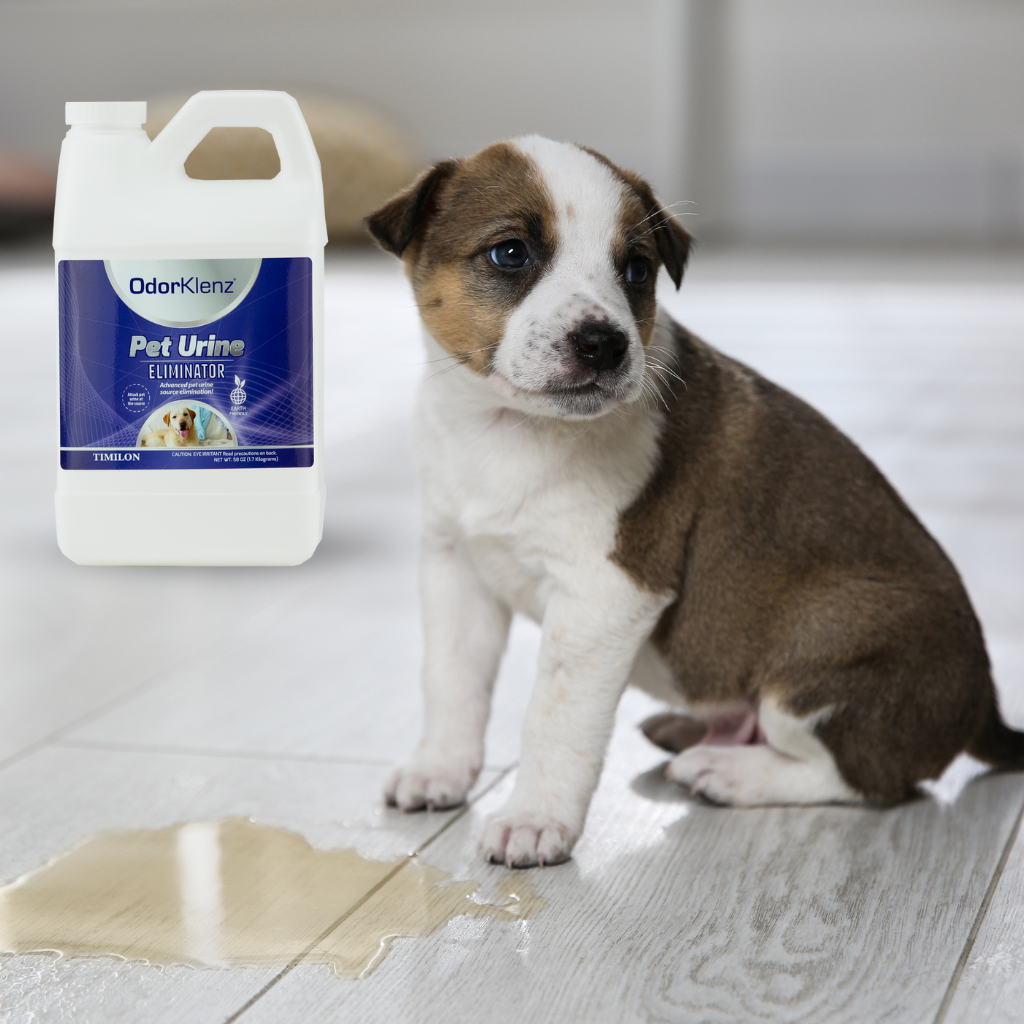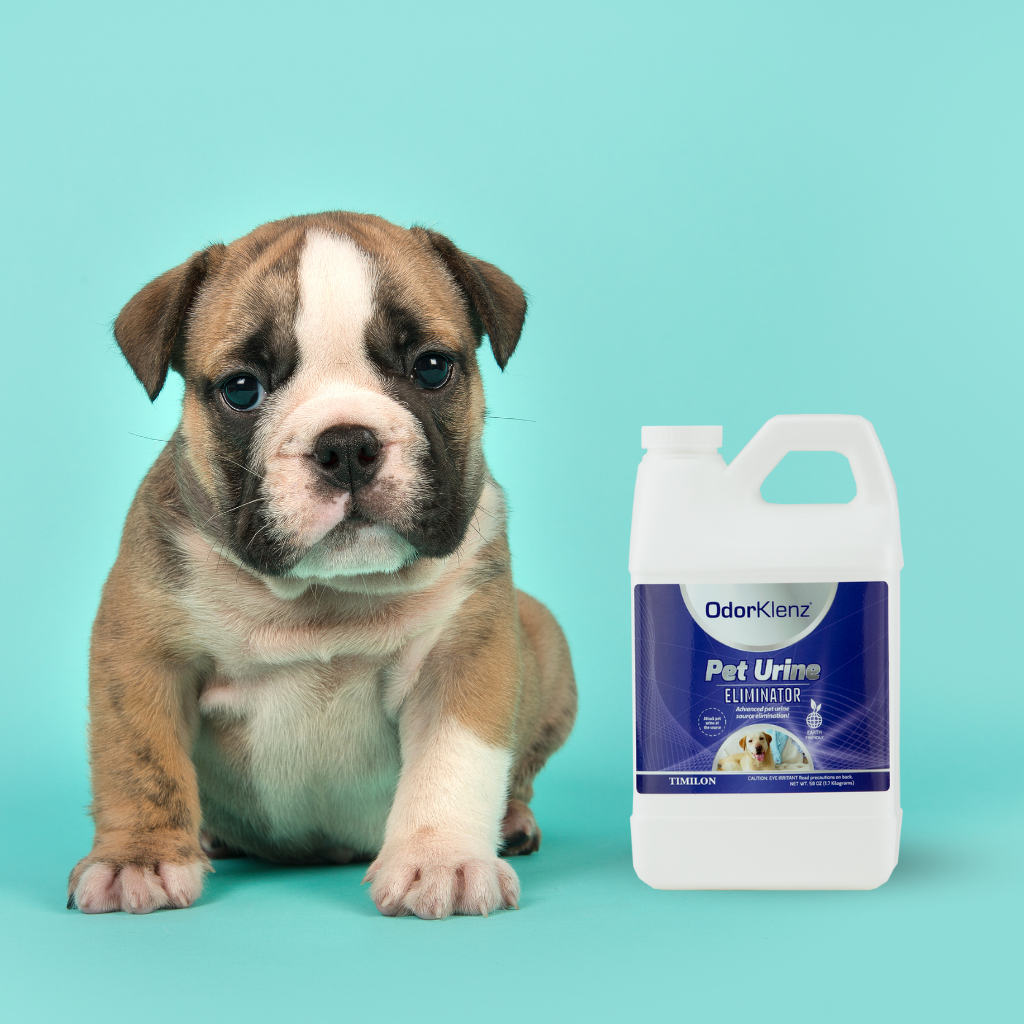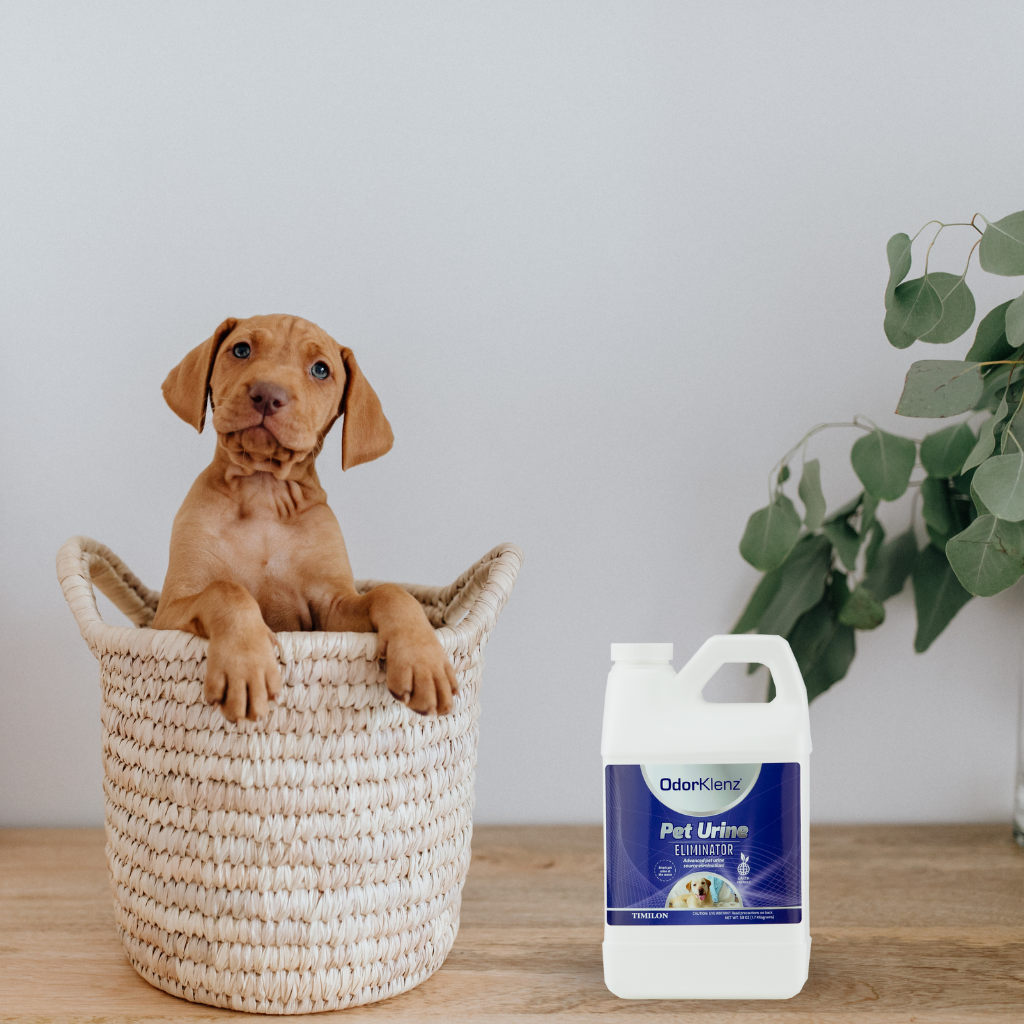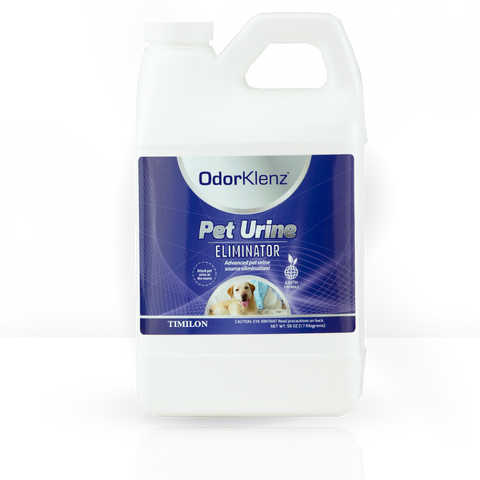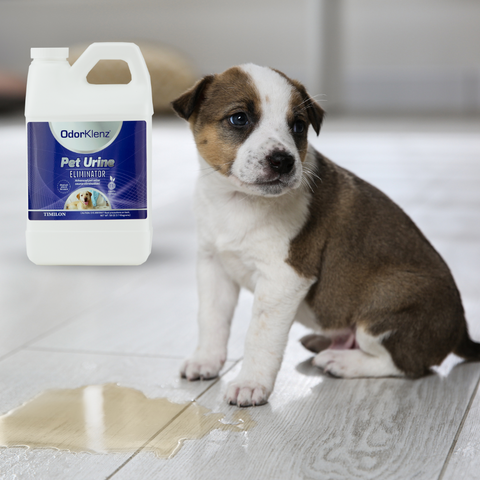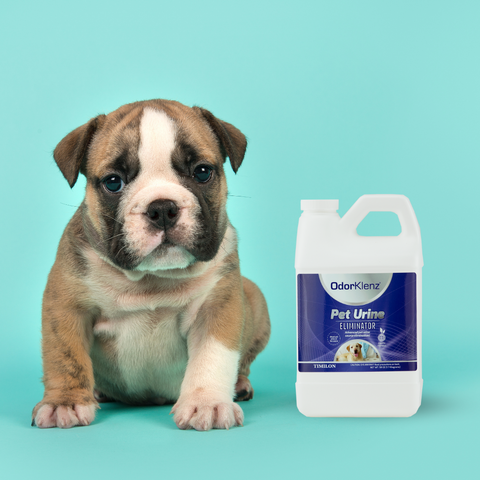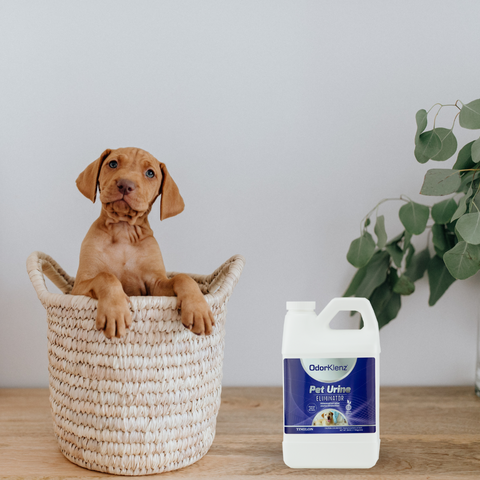 PET URINE ELIMINATOR
Accidents happen - forgive Fido and forget his potty break odors for good with the OdorKlenz Pet Urine Eliminator, designed with your pet in mind to destroy accident smells at their source using a pet-safe and surface-friendly formula to tackle the job.
Harsh chemicals and fragrances don't belong on your pet's fur. OdorKlenz uses the power of earth-friendly ingredients to create clean, safe solutions you can trust around your furry friends:
Magnesium oxide
Titanium dioxide
Zinc oxide
Contains zero: fragrances, chemicals, masking agents, dyes, or parabens
Safe and gentle on skin and fur to remove dirt, grass, garbage, feces, and skunk odors
Earth-friendly formula for safe disposal
For treating odors on-the-go, the Pet Deodorizing Mitt can remove odors trapped in your pet's fur with ease
Remove mitt from foil packaging and put it on
Use the mitt to wipe down your pet, releasing the odor-fighting formula throughout its fur
Dispose of after use

Fast
Shipping

30 day
warranty

Made in
the US
Description:
The OdorKlenz® Pet Urine Eliminator can be used on water-safe surfaces and is designed for use on carpets, fabrics and other extractable surfaces your pet frequents. It destroys odors deep down, eliminating stubborn pet & urine odors at the source. OdorKlenz® Pet Urine Eliminator is a specially formulated product to provide maximum neutralization and urine odor extraction by capturing, destroying, and eliminating urine odors safely and effectively.
Made of Safe, Natural Earth Minerals
Eliminates All Types of Urine Odors
Non-Bleaching or Staining
Fast Acting
No Masking-Agents or Fragrances
Safe for Use Around Children and Pets
How to Use the OdorKlenz® Pet Urine Eliminator
Getting Urine Smell Out of Carpet:
When using the OdorKlenz® Pet Urine Eliminator you want to apply it to the surface and work it into the surface of the accident. Allow the product to fully contact the source to ensure the product gets into the surface to eliminate the odor. The steps below are a guide on how to use the OdorKlenz® Pet Urine Eliminator.


For Carpets, Rugs, and Other Soft Surfaces:
Please read the instructions completely before beginning your treatment. Each container is designed to treat approximately 9 square feet of source urine contamination on rugs or carpet. The product can be diluted to treat broad areas with mild or secondary odor contamination.

Before each use, vigorously shake for one minute to mix components. Always shake just prior to application to disperse the contents evenly. If the product has frozen, let it thaw completely before use. Only perform the source urine odor elimination on non-delicate surfaces. Do not use on surfaces that cannot be exposed to water. Do not use on areas that are contaminated with other cleaning agents. Clean and remove other products from the treatment area prior to OdorKlenz® use. Test OdorKlenz® on an inconspicuous area for colorfastness or other surface effects. The OdorKlenz® process may leave a white residue that can be removed with repeated brushing, vacuuming, and/or wiping. Do not use in household carpet shampooer. Professional carpet extraction equipment is recommended to remove excess water and residual OdorKlenz® for carpets and rugs.


For Use With Extraction Equipment (Recommended):
1. Soak up excess urine and any loose debris from the area to be treated with towels or paper towels.
2. Lightly dampen the area to be treated with clean, warm (but not hot) water.
3. Using your vacuum or carpet extractor's wet extraction capabilities, clean the area 2-3 times to remove as much source urine as possible, leaving the area slightly damp.
4. Pour OdorKlenz® on the treatment area to fully contact the source urine.
5. Spread the OdorKlenz® into the area working it deeply into the carpet or covering surface completely. Use a comb or your fingers to work OdorKlenz® into the fibers of the carpet or rug.
6. Apply pressure with a towel to the area by standing/walking/pushing on the treatment area.
7. Allow the OdorKlenz® formulation to remain on the area for 15 minutes.
8. Wet extract the treatment area using clean water.
9. Use additional clean water and agitate between extractions.
10. Repeat the drying and cleanup process 2-3 times to remove any visible residue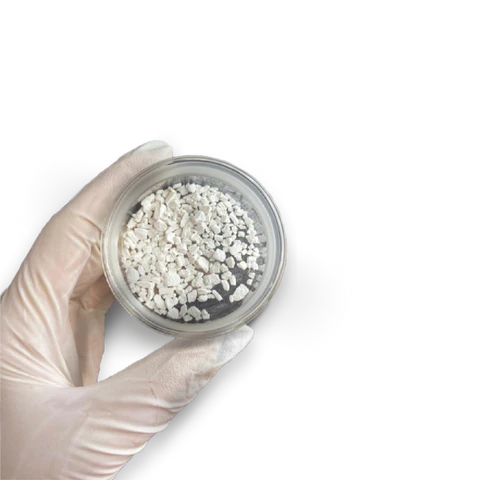 Safe Ingredients.
At OdorKlenz we are proud that our products are fragrance free and made without any toxic chemicals that would be harmful to your beloved pets. We do not use enzymes which target only certain odor particles, chemicals which might bleach or discolor, or abrasive chemicals which might damage your carpet or furniture. Every OdorKlenz product you use on your pet or in your home is safe and efficient. We are committed to finding the most useful formulas without relying on masking agents or perfumes because we take your trust seriously – when we tell you an odor will be eliminated, we mean it!
- used to remove sweat and body odors
- used to remove sulfur smells like smoke, rotten egg, and septic water odors
- used to remove fragrances and ammonia-based odors like urine or cleaning chemicals